For more photos, check here --->
http://mintcondition...oms/kraven.html
Kraven the Hunter was made using the head from a Neca S-Mart Ash, torso and arms from a TNA Eric Young, and the legs from a Marvel Urban Legends Punisher.
I've been thinking for years now how it sucks that Bruce Campbell has appeared in every Spider-Man film in bit parts, but has yet to appear in the role he was born to play. Kraven the Hunter. Just look at any photo of him as Autolocus from Xena and Hercules and you'll see him with a classic Kraven goatee. He looks just like him! So naturally that's where I got the idea to use the Neca S-Mart Ash head for this custom. I even liked the scars on his face. Made him look like he'd tangled with some pretty dangerous animals. So I scultped on the goatee and painted it black for a very accurate Kraven look.
Next, I painted the wraps around his Eric Young's hands to give a more leather color. Then I attached the torso to the legs of the Urban Legends Punisher figure.
His vest came from an X2 Logan figure. It fit the figure perfectly. All I had to do was paint it up to give it a tanned leather look. I did the same thing to his legs and boots. Kraven always dress in browns and Earth tones, so I wanted my movie concept to reflect that.
For Kraven's belt and buckle, I used a strip of foamies foam and sculpted in some wrinkles to give it a worn look. After that I just painted it up.
Now for the weapons. First, I equipped Kraven with 3 weapons. A machete, a knife, and a crossbow. The Kraven I picture doesn't use guns unless he absolutely has to. He enjoys the kill and consideres it more of a challenge if he kills either with his hands or with these three weapons. The machete was found in my fodder bin and was perfect for what I needed. Pure happenstance there. The sheath for the machete was the S-Mart Ash's holster for his shotgun that I cut to length. The strap holding his sheath to him was cut from a Mr. Sinister strap. It doesn't interfere with articulation at all. The knife and sheath came from a McFarlane Corporal Hicks figure. I just glued it onto Kraven's vest and there ya go.
he crossbow is my favorite. It came from a Deluxe Kennedy Buffy figure. But the thing I'm really proud of is the holster I made for it. On Kraven's back there is a strap that folds and buttons up holding the crossbow in place, but can easily be unbuttoned for crossbow removal. The strap is cut from foamies foam with a small craft clasp button actually sewed into the strap. I really wanted this strap so all of his weapons could be held, and sheathed/holstered to him. Perfect functionality.
All in all, I went with a more realistic and simplified look, but something that I felt was definitely reflective of the Kraven character.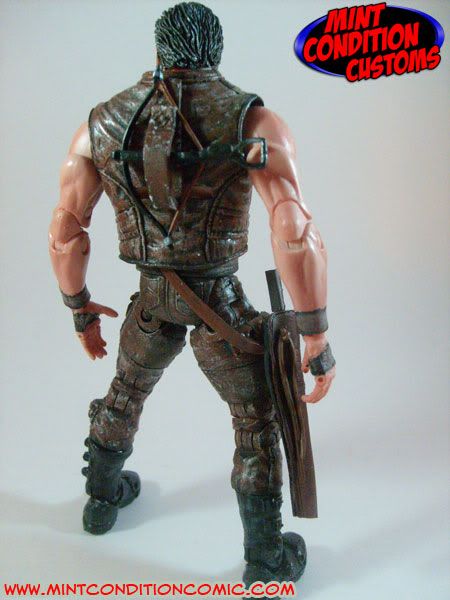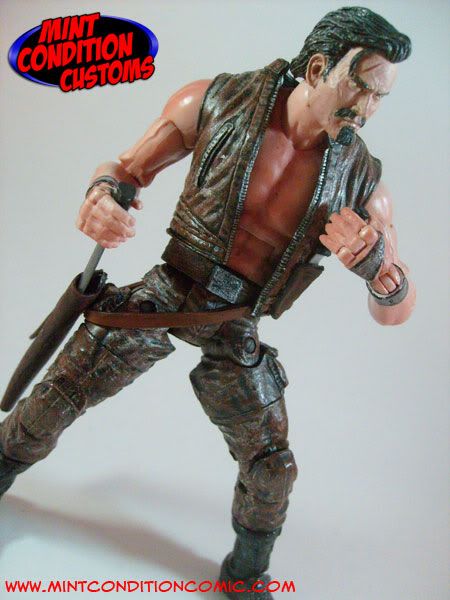 Thanks for looking!